The 2017 NO Laminitis! Conference - Who Should Attend?
07/27/2017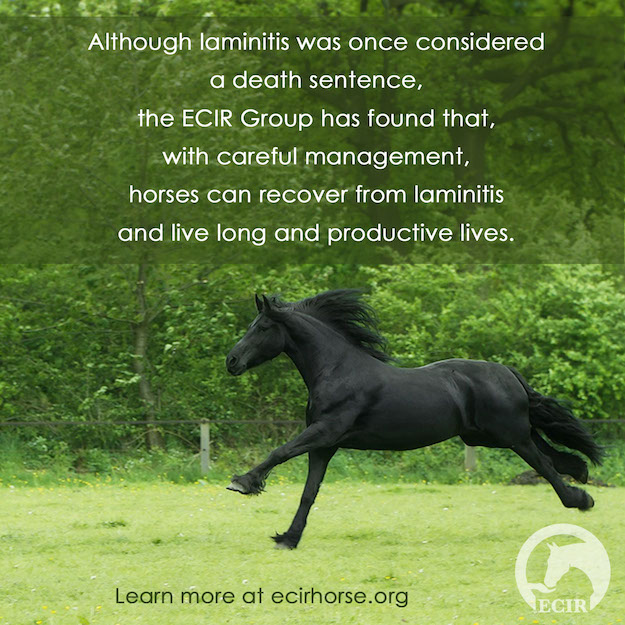 A question came up recently:
"What can horse owners learn from the
2017 ECIR Group Inc. NO Laminitis! Conference?"
Veterinary medicine and protocols, like human medicine and protocols, are always changing. It is hard for equine professionals to always keep up in every aspect. Moreover, hey do not see the thousands of cases the ECIR Group has followed over 17 years.
While the NO Laminitis! Conference attracts many equine professionals, our audience has historically also included many lay people — nearly one-third of our audience, in fact.
When you love an IR and/or PPID equine, you can't afford not to know tried-and-true protocols to protect their welfare. The 2017 NO Laminitis! Conference will help to pull it altogether in a understandable, comprehensive, and useful way.
From the last three conferences we've seen that owners can learn:
How to be the best advocate for your IR/PPID horse.
How to be an independent thinker to best work with local vets and hoof pros.
Recognition of symptoms and diagnosis issues often missed.
Understanding of research behind approaches.
Understanding of products that work and those that do not.
Tried-and-true protocols to prevent laminitis.
Tried-and-true protocols for rehabilitation if laminitis strikes.
The ability to effectively help your horse beyond simply owning a horse. Knowledge is power!
And you get to meet and hang out with a lot of truly great horse people!
The details:
When: The weekend of October 27 - 29, 2017
Where: Tucson Hilton East, Tucson, AZ
Speakers: Eleanor M. Kellon, VMD
Robert M. Bowker, VMD, PhD
Jaini Clougher, BSc, BVSc
Kathleen Gustafson, PhD
Lisa Lancaster, DVM, PhD
Lavinia Fiscaletti, BS - Moderator/Senior ECIR Group Volunteer
Paige Poss, APF, Anatomy of the Equine, LLC
Carol Layton, BSc, M.Ed, Balanced Equine Nutrition
Full details, lecture schedule, registration, veterinary and hoof professional continuing education credit info, and much more at https://www.nolaminitis.org/
Many, many thanks to our growing list of Benefactors who so generously support the work of the ECIR Group and our 2017 conference.
DIAMOND BENEFACTORS
California Trace • Soft-Ride Equine Comfort Boots • Auburn Laboratories, Inc. - APF • Forageplus • Uckele • Mad Barn
PLATINUM BENEFACTORS
Triple Crown Feed and Ontario Dehy • Beetebites • Hay Chix • Emerald Valley Natural Health
GOLD BENEFACTORS
Black Horse Spirit • Anderson Feed - NuZu Feed • Omega Fields • Wedgewood Pharmacy • Equi-Analytical • Horse Tech • My Best Horse • Sox For Horses
BRONZE BENEFACTORS
Ration Plus • Yank Gulch Equine • Great Plains Forage Balance • New England Equine Balance
---
About the ECIR Group Inc.
Started in 1999, the ECIR Group is the largest field-trial database for PPID and IR in the world and provides the latest research, diagnosis, and treatment information, in addition to dietary recommendations for horses with these conditions. Even universities do not and cannot compile and follow long term as many in-depth case histories of PPID/IR horses as the ECIR Group.

In 2013 the Equine Cushing's and Insulin Resistance Group Inc., an Arizona nonprofit corporation, was approved as a 501(c)3 public charity. Tax deductible contributions and grants support ongoing research, education, and awareness of Equine Cushing's Disease/PPID and Insulin Resistance.

THE MISSION of the ECIR Group Inc. is to improve the welfare of equines with metabolic disorders via a unique interface between basic research and real-life clinical experience. Prevention of laminitis is the ultimate goal. The ECIR Group serves the scientific community, practicing clinicians, and owners by focusing on investigations most likely to quickly, immediately, and significantly benefit the welfare of the horse.