ECIR Group Inc. Unveils Updated Website
03/20/2017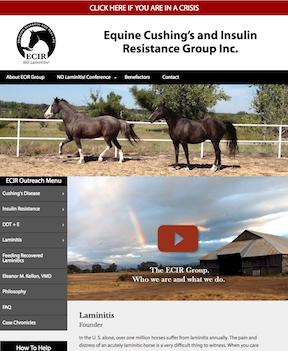 The ECIR Group Inc. recently opened the portal to a completely updated website: https://ecirhorse.org/
The ecirhorse.org site was originally established in 2008. Because of original work and the hours of work that continued over the years from devoted volunteers, ecirhorse.org garners an average of 17,000 unique visits per month.
The new website has had over 100 pages reviewed and re-written with updated information and explains in detail the signs, symptoms, and physiology of Pituitary Pars Intermedia Dysfunction (PPID) and Insulin Resistance (IR); detailed information is presented on various testing procedures and treatment, as well as background as to why they are recommended.
Success Stories, now renamed Case Chronicles, have been updated. Over 50 photos and images — the majority, ECIR Group member horses — have been used to illustrate what is possible for equine health and the management of PPID and IR. Also up front and center on the home page is The ECIR Group Inc. NO Laminitis! Film illustrating who the ECIR Group is and what it does is.
For equine professionals and for owners wishing to learn all they can, detailed supporting studies and back-up data are available to be shared. Proceedings from the 2013 and 2015 NO Laminitis! Conferences may be downloaded for free. Case Chronicles and Reports from the Field point to the effect the ECIR Group and the hard work of equine caregivers can have on individual cases.
The new site has been eight months in the making. Whether using the info for themselves, or sending to vets, hoof pros, or horse owners, the public is encouraged to make good use of ecirhorse.org. Please give feedback via the contact tab.
---
About ECIR Group Inc.
Started in 1999, the ECIR Group is the largest field-trial database for PPID and IR in the world and provides the latest research, diagnosis, and treatment information, in addition to dietary recommendations for horses with these conditions. Even universities do not and cannot compile and follow long term as many in-depth case histories of PPID/IR horses as the ECIR Group.
In 2013 the Equine Cushing's and Insulin Resistance Group Inc., an Arizona nonprofit corporation, was approved as a 501(c)3 public charity. Tax deductible contributions and grants support ongoing research, education, and awareness of Equine Cushing's Disease/PPID and Insulin Resistance.
THE MISSION of the ECIR Group Inc. is to improve the welfare of equines with metabolic disorders via a unique interface between basic research and real-life clinical experience. Prevention of laminitis is the ultimate goal. The ECIR Group serves the scientific community, practicing clinicians, and owners by focusing on investigations most likely to quickly, immediately, and significantly benefit the welfare of the horse.